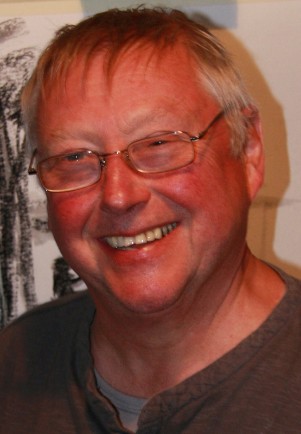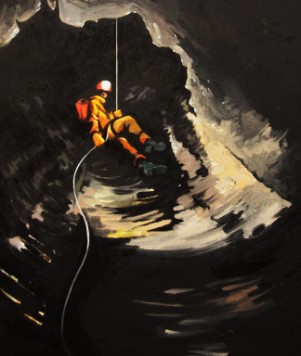 Above: 'Descent' Oil on Canvas.

Born: 9th April 1942
Studied: Beckenham School of Art 1958 - 1962
Ravensbourne College of Art & Design 1962 – 1963
PLEASE NOTE:- NONE OF THE PICTURES DISPLAYED HERE ARE FOR SALE

Robin Gray has had a long and successful career as an artist, teacher and demonstrator. He became successful as a painter in the 60/70s when he worked in acrylic paint, (new at that time), on a long series of 'organic abstract' paintings. At this time he also worked as head of department in a Surrey comprehensive school. He moved to Somerset in the early 1980s to spend more time caving under the Mendip Hills. In Somerset, Robin Gray returned to his art school roots and painted landscape based pictures relating to Somerset myths and legends but set very much in modern times. He has become an internationally known painter of cave exploration since moving to Somerset and has won numerous prizes relating to the subject. He is chairman of The International Society for Spelaeological Art.
Robin Gray has held over thirty successful one man shows and has exhibited his work widely. Alongside this, he has held positions in education which include lecturing at Brighton University, Head of faculty at Oldfield School in Bath, serving on the South East Regional Examinations Board, Director of the Meare Arts Centre and City and Guilds lecturer in Photography. He has illustrated several books.
For nearly twenty years he has been a popular demonstrator for Jakar International, showing to the public, the many exciting products made by Caran d'Ache of Switzerland, and is a regular performer at Art in Action, the yearly festival of the Arts, held in Oxford. He retired from being an active art club demonstrater in 2017 in order to spend more time in his own studio.

In 1999 he was head hunted to develop the arts at Shapwick School, one of the world's most successful schools specializing in dyslexia. He left in September 2011, but continues to work as a demonstrator and artist. He is sponsored by St. Cuthberts Mill, maker of Bockingford and Waterford paper.
Robin recently becam a member of NAPA, the National Association of Painters in Acrylic. He won the Contemporary Art Award in their annual exhibition in St. Ives, Conwall. Also in 2018 a large Acrylic painting was purchased by Millfield School.